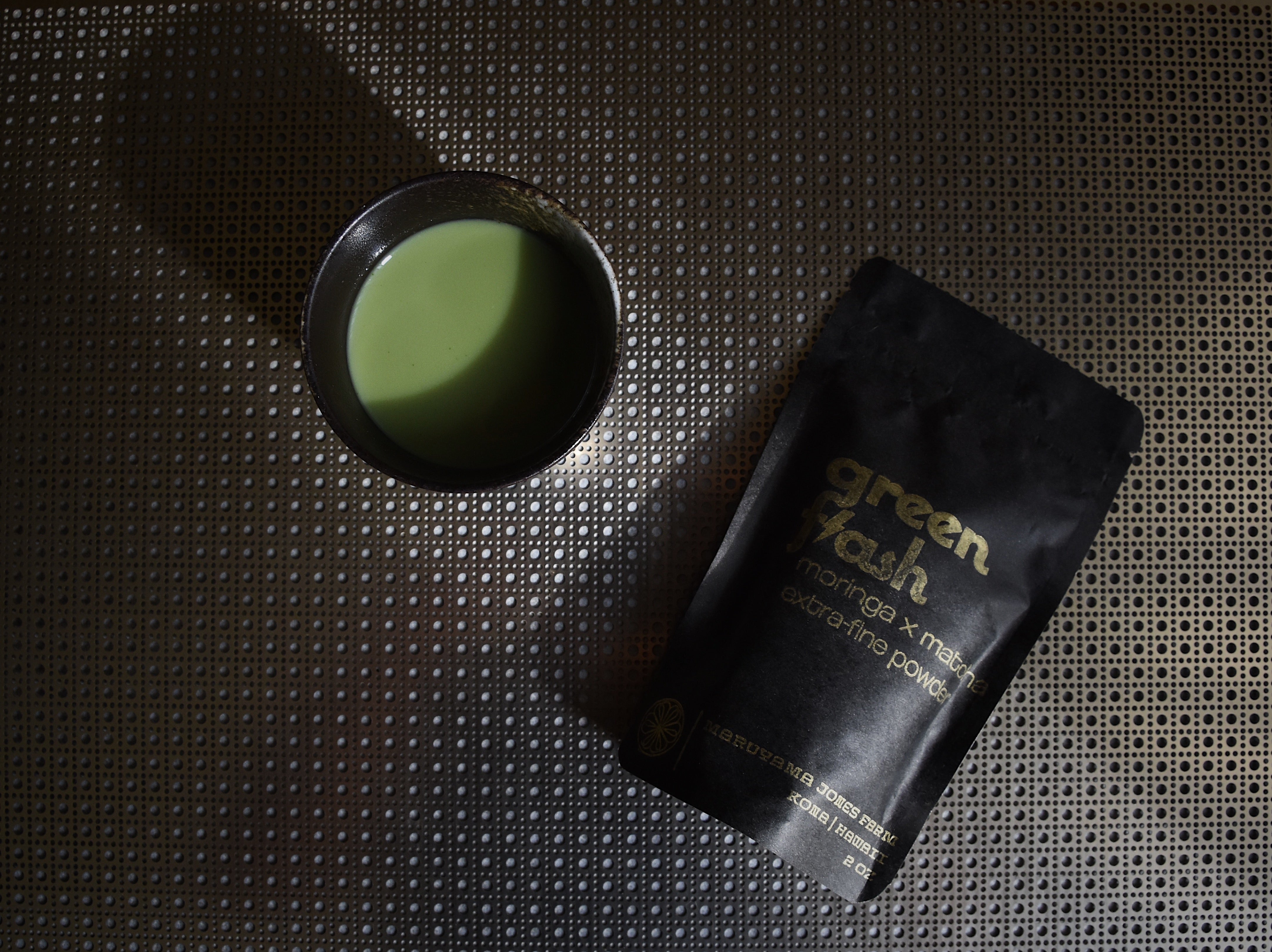 "Green Flash" Moringa x Matcha - 2 oz.
Sip your way to mental clarity and wellness with our "Green Flash" Matcha x Moringa blend.
Matcha
Matcha is a powdered green tea that Zen monks drank to develop relaxed concentration before meditation. Its calming properties are due to the amino acid L-theanine, a source of savory umami. Matcha's caffeine gives a gentle energy boost, while L-theanine eases the mind. Together, the result is a focused alertness sans the jittery buzz and crash of coffee.
Matcha is a potent form of green tea made from the entire leaf. Studies suggest that regularly drinking green tea has health benefits such as: 
weight loss due to increased metabolism
antioxidants that keep you healthy and youthful

anti-inflammatory properties
reduced risk of heart disease and stroke
less risk of cancer in the digestive tract.
Moringa

Our farm-grown moringa adds extra nutrition to the USDA-certified organic matcha. Moringa was named one of the top wellness trends in 2018 by Good Morning America because it outperforms many of the traditional sources of the vitamins and minerals our bodies need. Ounce for ounce, dehydrated moringa leaf powder has:
25 times the iron of spinach
17 times the calcium of milk
15 times the potassium of bananas
10 times the vitamin A of carrots
9 times the protein of yogurt
1/2 times the vitamin C of oranges
We grow our moringa trees on a small family farm in Kona, Hawaii, about one mile from the deep waters of the Pacific Ocean. Awash in year-round tropical sunshine, our 5-acre farm is sustainable. We use nutrient-rich compost created on site from yard waste, food waste and algae. Our moringa powder is fresher than the rest, evident in its vibrant green color. It is also finer than other powders, allowing it to easily dissolve in liquids or be folded into soups and baked goods.
"Green Flash" Moringa x Matcha Latte 

Ingredients
6 ounces of your favorite milk (almond, rice, soy, cashew, cow, etc.)
2 ounces of hot, but not boiling, water
1 T of local raw honey
1 T of "Green Flash" Moringa x Matcha
Directions
Warm your milk if you want to drink your latte hot.
Add "Green Flash" Moringa x Matcha and honey.
Top with hot water.
Whisk with a metal or bamboo whisker, or mix in a blender until the powder dissolves completely.
Enjoy!
References
Higdon, J. V., amd Frei, B. (2003).
Tea catechins and polyphenols: health effects, metabolism, and antioxidant functions.
Critical Reviews in Food Science and Nutrition, 43(1): 89-143. http://doi.org/10.1080/10408690390826464
Westerterp-Plantenga, M. S., Lejeune, M. P.G.M. and Kovacs, E. M. R. (2005),
Body weight loss and weight maintenance in relation to habitual caffeine intake and green tea supplementation.
Obesity Research, 13: 1195–1204. http://doi.org/10.1038/oby.2005.142
---
"Green Flash" Moringa x Matcha - 2 oz.